68HC08 Introduction

        .cr     68hc08      To load this cross overlay

The Motorola 68HC08 family of micro controllers are the successors of the popular 6805 family. The CPU core of this family is referred to as the CPU08. Don't mistake the 68HC08 with the very early 6808, which was basically a 6800 with on chip crystal oscillator. Thus apart from the fact that they are both Motorola products, they are totally unrelated to each other.
The 68HC08 is downward compatible with the 68HC05, both in source code as in object code. This means that a program created for the 68HC05 should be able to run unchanged on a 68HC08, it will only be a lot faster. Motorola has increased the execution speed of the processor and has added some extra instructions and addressing modes. And the most welcome enhancement is the extended index register, which is now capable of indexing 16-bit addresses.
Please refer to Motorola's application note AN1218 which gives a clear comparison between the 68HC05 and 68HC08 cores.
Programming Model
The programming model of the 68HC08 is still very modest, compared to other processors. I only include a little summary about the features of the 68HC08's programming model here. It is not my intention to make the original documentation obsolete, so please refer to the original documentation for further details.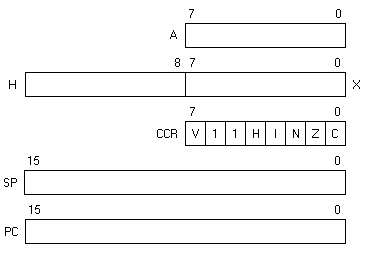 Don't be alarmed by the small number of registers compared to other processor types. The 68HC08 has a very powerful addressing mode called direct page addressing. This way all 256 bytes of page 0 in memory can be addressed with only 8 bits. These 256 addresses can be considered the "registers" of the 68HC08!
All I/O related memory is also located in page 0, which makes I/O access quite fast.
The Accumulator A
The Condition Code Register
| | | |
| --- | --- | --- |
| Bit 7 | V | Two's complement overflow Flag |
| Bit 6 | 1 | Aleays reads 1 |
| Bit 5 | 1 | Aleays reads 1 |
| Bit 4 | H | Half Carry Flag |
| Bit 3 | I | Interrupt Mask Flag |
| Bit 2 | N | Negative Flag |
| Bit 1 | Z | Zero Flag |
| Bit 0 | C | Carry Flag |
The Index register X

         LDA   $00,X
         LDA   ,X
         LDA   X

The Stack Pointer
PCL, PCH, X, A, CCR
The Program Counter
Timing
SB-Assembler Version 3 can show you the cycle times of each instruction when the TON list flag is switched on. The numbers presented are the number of clock pulses the processor needs to execute the instruction.
Reserved Words
The SB-Assembler 68HC08 cross overlay has only two reserved words, which are the register X and SP. For the rest you may choose any label name you like.
Special Features
Indexed addressing mode

        LDAA   $00,X
        LDAA   ,X
        LDAA   X

Forced direct page and extended addressing modes

0010-           LABEL     .EQ   $10           A zero page address
8000-B6 10                LDA   LABEL         Appears to be zero page
8002-B6 11                LDA   <FORWARD      Clearly a forward referenced label
8004-B7 12                STA   $12           Is a zero page address
8006-C7 00 11             STA   >$11          Force extended addressing mode
0011-           FORWARD   .EQ   $11           A zero page address

Alias and compatibility mnemonics
Small difference in bit addressing notation

         BRSET   0,$12,OFFSET       Almost the same as Motorola ;-)

Overlay Initialization
Two options are set while initializing the 68HC08 overlay family every time it is loaded by the .CR directive.
Big endian model is selected for 16-bit addresses and for the .DA and .DL directives. This means that words or long words are stored with their high byte first.
The maximum address size is set to 64k.
Differences Between Other Assemblers
There are some differences between the SB-Assembler and other assemblers for the 68HC08 family of processors. These differences require you to adapt existing source files before they can be assembled by the SB-Assembler. This is not too difficult though, and is the (small) price you have to pay for having a very universal cross assembler.
Not all assemblers allow you to use the shorter indexed mode.
Not all assemblers will understand forced direct page and extended addressing modes.
Not all assemblers will understand the alias mnemonics.
The obvious differences in notation of directives and radixes common to all SB-Assembler crosses.
Don't forget that the SB-Assembler does not allow spaces in or between operands. Only Version 3 will allow one space after each comma separating operands in the operand field.