PIC 16cxxx Introduction
Microchip offers a wide range of PICmicro RISC controllers. This page describes the SB-Assembler's behaviour for the Mid Range PIC16Cxxx family, which also includes the popular PIC16F84.
According to Microchip all these controllers are easy to learn because there are only some 30 to 40 instructions to learn. Unfortunately not everything is as easy as it may seem. I must admit that the base models are quite easy to comprehend. But things get complicated very quickly when larger controllers start working with memory paging and register bank switching.
The RISC architecture of the devices requires some getting used to. All instructions occupy only one instruction word. These instruction words are 12 to 16 bits wide, which reflects on the memory layout of the target file.
The maximum ROM capacity for this series of controllers is 8 k words of 14-bits each. This address range is divided into 4 memory pages of 2 k words each.
Data memory is only 8-bits wide and is organized as the so-called register file F, which is described shortly.
SB-Assembler Version Differences
This page describes the PIC Mid-range cross overlay for SB-Assembler Version 2 only. Microchip has made quite a little mess of the instruction sets throughout the entire family that it has become impractical to handle both versions on one page. After all Version 2 of the SB-Assembler is no longer maintained, therefore new instructions are not added to that version any more.
If you want the latest and greatest cross overlay for the PIC Mid-range family please go to the Mid-range page for SB-Assembler V3.
Programming Model
I only include a little summary about the features of the PIC16Cxxx programming model here. It is not my intention to make the original documentation obsolete, so please refer to the original documentation for further details.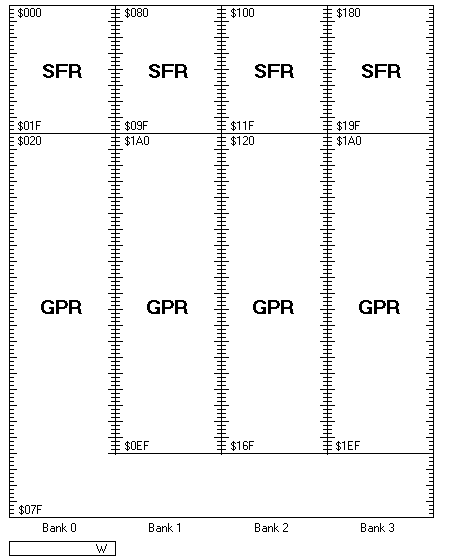 The register file can be addressed by a 7-bit pointer, giving a total addressing range of 128 bytes.
The first 32 bytes of this range contains up to 4 banks of special function registers. Those registers are used to set options, control peripherals, and address the I/O ports. I will only describe the most important control registers that are present on almost all devices here.
The 96 remaining addresses of the register file are general purpose registers. The main part of this area can also be bank switched with up to 4 banks, depending on the device. Only the registers $070 to $07F are never bank switched and are accessible from within any bank. This means that addresses $070 to $07F are equal to addresses $F0 to $FF and addresses $170 to $17F and addresses $1F0 to $1FF.
Some devices may implement unused Special Function Registers as normal general purpose registers.
All registers can be accessed directly or indirectly. Addresses from bank 0 range from $000 to $07F, bank 1 ranges from $080 to $0FF, bank 2 ranges from $100 to $17F, and finally bank 3 ranges from $180 to $1FF.
The bank switching itself is done by setting 2 bits in the Status register appropriately.
W
f$00 Indirect Data Addressing
f$02 PCL
f$03 Status word register
| | | |
| --- | --- | --- |
| Bit 7 | IRP | Indirect Register bank select bit |
| Bit 6 | RB1 | Select Register Bank bit 1 |
| Bit 5 | RP0 | Select Register Bank bit 0 |
| Bit 4 | TO | Time Out Flag |
| Bit 3 | PD | Power down Flag |
| Bit 2 | Z | Zero Flag |
| Bit 1 | DC | BCD Digit Carry Flag |
| Bit 0 | C | Carry Flag |
f$04 FSR
f$0A PCLATH
Please note that none of the special function register names are pre-defined by the SB-Assembler. You can use normal labels in combination with the .EQ directive to declare names for all the file registers.
Reserved Words
The SB-Assembler 16Cxxx cross overlay has only 2 reserved words, W and F. Avoid assigning labels with these two names and you're safe.
Target Files
Storing 14-bit instruction words in an 8-bit oriented target file requires special treatment. You may choose any target file format you like. Most PIC programming devices require you to supply an Intel HEX file though, so I advise you to use only the Intel format for your target files when writing programs for the PICmicro families.
Microchip recommends 2 methods of storing your target files. The first method is to split the 14-bit instruction words and store the low bytes in one target file and the remaining bits in a second target file. The SB-Assembler doesn't support this method, which is not such a big problem because the second method is accepted by all PIC programming devices I have seen so far.
The second method that is recommended by Microchip is to store all instruction words in one target file, low byte first, and the remaining bits in the next byte. This method is supported by the SB-Assembler.
Please note that the SB-Assembler will always store pairs of bytes and that all source addresses are doubled in the target file because of this. So if you write an instruction at address $0123, it will end up at address $0246 and $0247 in the target file.
Every processor allows you to write 4 ID words at the end of the ROM area of the device. These ID words can be used to identify your software version, or may contain any other information you like. The ID words can not be read under program control, they are only accessible by programming devices.
You can include the ID words in your target file at the end of the program memory. Please refer to the new .ID directive for more information on how to include the ID words in your program.
Every device also has a Config word, allowing you to select the type of oscillator and some other configuration options. This Config word can be included in the target file too and is usually written at address $2007. Please refer to the new .CW directive for more information.
Some devices are also equipped with data EEPROM memory. You can initialize this memory with data when the device is programmed. Any data generating directive can be used to fill the EEPROM with data. Usually the data is stored from address $2100, so it will effectively start at address $4200 in the target file.
All data is still saved as 2 bytes, so all target file addresses will still be doubled. The high byte of each pair simply remains 0.
Please note that all data generating directives will generate RETLW instructions as long as the program counter is below $2000. Above this address all data is stored as 2 bytes, with the 2nd byte (odd address in target file) always being $00.
Special Features
New Directives
Altered behaviour of Directives
Disabled Directives
.CR directive
File Register addressing
Immediate prefix is optional
RETLW

        RETLW    $12,$34,$56

CALL and GOTO address range
Destination flag
Obsolete TRIS and OPTION instructions
.CT Close Table
Syntax:
        .CT
Function:
Explanation:

DEC2SEGM   MOVLW  /SEGMENTS        Load PCLATH with MSB of the
           MOVWF  PCLATH            table address
           MOVF   DIGIT,W          Get the digit to be displayed
           MOVWF  PCL              Jump to location in table

           .OT                     Mark the beginning
SEGMENTS   RETLW  #%0011.1111      0  Return with pattern for '0'
           RETLW  #%0000.0110      1  Return with pattern for '1'
           RETLW  #%0101.1011      2  Return with pattern for '2'
           RETLW  #%0100.1111      3  Return with pattern for '3'
           RETLW  #%0110.0110      4  Return with pattern for '4'
           RETLW  #%0110.1101      5  Return with pattern for '5'
           RETLW  #%0111.1101      6  Return with pattern for '6'
           RETLW  #%0000.0111      7  Return with pattern for '7'
           RETLW  #%0111.1111      8  Return with pattern for '8'
           RETLW  #%0110.1111      9  Return with pattern for '9'
           .CT                     End of table, checking page

.CW Config Word
Syntax:

        .CW  [flags]
        .CW  #expression

Function:
Explanation:
| | |
| --- | --- |
| Flag | Config word bit relationship |
| CP | bit 3 is 0 if CP is listed |
| WDTE | bit 2 is 1 if WDTE is listed |
| RC | bits 1 and 0 are both set if RC is listed |
| HS | bit 1 is set, bit 0 is cleared if HS is listed |
| XT | bit 1 is cleared, bit 0 is set if XT is listed |
| LP | bits 1 and 0 are both cleared if LP is listed |

          .OR    $0FFF         Put CW in recommended address
          .CW    XT,WDTE       Select crystal and watchdog enable


          .OR    $0FFF         2nd example (not in same source file)
          .CW    #%0100        Select LP oscillator and code protect

.ID ID words
Syntax:
        .ID  expression
Function:
Explanation:

2000-                       .OR    $2000       Beginning of data memory

2000-01 00 02 00
2002-03 00 04 00            .ID    $1234

.MS Memory Size
Syntax:
        .MS  expression
Function:
Explanation:
.OT Open Table
Syntax:
        .OT
Function:
Explanation:
Extra Error Messages
A few extra error messages are added to the standard repertoire of error messages.
*** Table crossed page boundary error
*** Illegal config bit error
*** Illegal directive error
** Program memory allocation error
*** Data memory allocation error
Overlay Initialization
Three things are set while initializing the 16Cxxx overlay every time it is loaded by the .CR directive.
Little endian model is selected for the .DA and .DL directives. This means that words or long words are stored with their low byte first.
Default memory size is set to $0400.
Control of storing bytes in the target file is taken over from the main assembler to enable the saving of words instead of bytes.
Differences Between Other Assemblers
There are some differences between the SB-Assembler and other assemblers for the 16Cxxx family processor. These differences require you to adapt existing source files before they can be assembled by the SB-Assembler. This is not too difficult though, and is the (small) price you have to pay for having a very universal cross assembler.
The handling of ID words and the Config word may differ from other assemblers.
Not all assemblers translate data bytes to RETLW instructions automatically.
Not all assemblers will allow multiple literal values following one RETLW mnemonic.
The obvious differences in notation of directives and radixes common to all SB-Assembler crosses.
Don't forget that the SB-Assembler does not allow spaces in or between operands.